How to contact CastleMagic
Phone
Fastest way to contact CastleMagic is by phone. Please leave a voice message to get your number on our "answer the phone" list.
Text
Send a text with your request or question is OK.
Mail
Mail or ship to: 154 Caseys Ln Sandpoint, ID 83864
Visit
Advance permission and scheduling is required to visit one of our castle construction sites
FAQ
Cost to build a real stone castle? Varies with location, size, design. Typical costs: $325 to $600 per square foot; residential solid stone castles $1.5 to $2.5M; event courtyard solid stone castles with perimeter walls $2.5 to $15M; solid stone great halls/chapels, small cathedrals $750k to $5M; solid stone towers $150k to $750k
Will you build in my location? Yes, we do travel to the best castle sites.
How do I order a castle? You must schedule a site visit to have your land approved for a castle or hire us to find the perfect castle land for you.
---
Today's castle construction photos:
A castle site's bedrock base - quarried for its own building stone. 8/1/2022
A castle site's bedrock base - quarried for its own building stone. 7/29/2022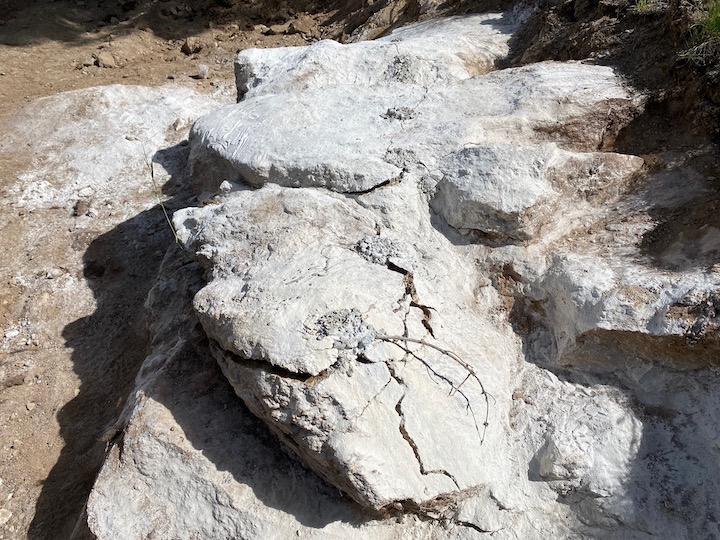 The powder ( Dexpan ) has expanded and cracked the bedrock for easy removal. 7/10/22
We have a large chunk of granite bedrock in the way of a driveway. Nine holes 1 1/2" x 12" deep drilled in the rock. Expanding powder solution poured in holes. Within 24 hours, we should have results. 7/9/22
A gothic arched hot tub gazebo with a solid granite and quartzite base. 7/8/2022