CastleMagic Castle Plans For Sale
Castle plans are best designed to fit and defend the site when we build a castle. Hire us, and we will visit your site, design the plan, and build the castle.
Custom castle plans - any size or shape - just call us
Single tower plans - small to large
Multi tower plans
B n B ready plans
Fortress plans - when you want a safe and secure defense
We have been building and living in our solid stone castles since 1980. We know what works and what doesn't. Every time we build a castle we strive to improve our methods. Over the years our construction technique has evolved to create the best castle possible. Our castles are engineered to heat and cool themselves, last through time, resist attack, provide ultimate comfort inside, and best of all, are really made of stone. By splitting the old style castle walls with a layer of insulation, a castle becomes warm and dry in the winter and and cool in the summer heat. Hydronic floor heat combined with masonry heaters provide silent and the most efficient heating. By selecting quality stone and good masons, a castle will stand the test of time. Wild storms can roar outside while the inside is quiet and calm.
Keep in mind here that these are not wood framed structures with stone stuck to the outside. These plans really are old style castles made of tons and tons of stone.
In the old days, we would draw plans with a pencil, drafting table, and drafting arm. Today, it is computers that rule the drafting industry. Below are a few of our favorite old pencil drawn castle plans and 3d sketches.
A four tower two story plan with a two story center room, real drawbridge with winch room above, and swimming pool moat. Great for flat land along a river. © 2006
---
Kalikai castle tower plan hand drawn sketch © 2004
Castle Kalikai computer drafted 4 bedroom version (4 mb file size 720x1200)
---
Castle with two story main room, 2nd floor bedrooms, and a third floor master with rooftop stone patio. © 2005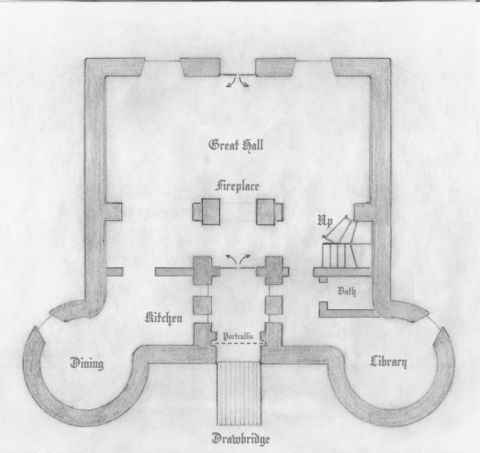 ---
The Compact Castle © 2001
---
For those who need events inside of your castle walls. © 2008
---
A wonderful castle/tudor house plan. © 2009
---
A cutaway drawing of a drawbridge mechanism.
---
A tower house castle with an extra tower added to create the L shape. © 2006
---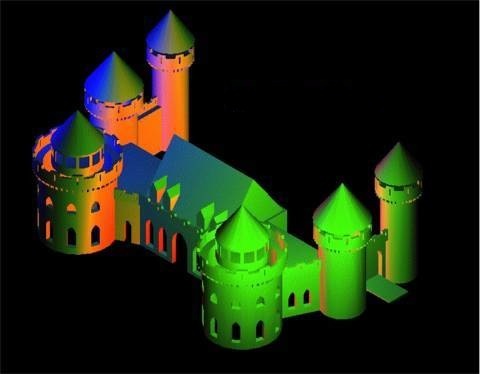 Castle plan rendered in AutoCAD with colored lights added. A mansion type castle plan with large great room in the center. © 2004
---
A full size round tower that you can live in. © 2011
---